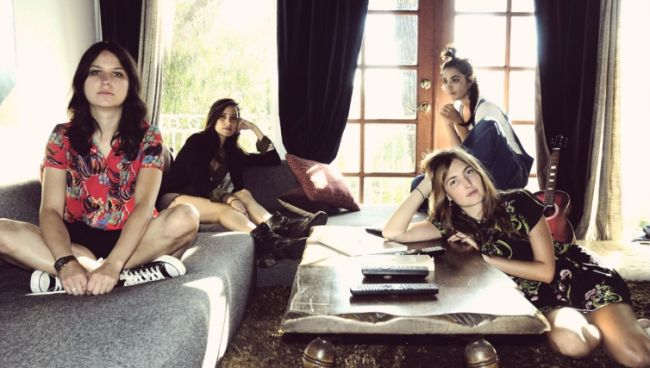 Nemár! 2014-ben is jelennek meg lemezek? Nagyon durva. És ki veszi meg azokat? Vagy nem is: ki hallgatja meg azokat? Mi, itt a Recordernél naívan optimisták vagyunk és azt reméljük, hogy még vannak, akik hallgatnak és vesznek lemezeket, úgyhogy összegyűjtöttük a 2014-ben várható, eddig ismert, tervezett megjelenéseket. Lesz Warpaint- (nyitóképen), Beck-, U2-, Wilco- és kis szerencsével egy új Fleet Foxes-album is - meg különben is, az itt felsoroltakon kívül is bárki adhat ki lemezt, ma már nem szokás azt előre bejelenteni.
A megjelenési dátumok természetesen ma már nagyon változékony természetűek, de íme, ez várható 2014-ben: (ahol még nincs albumcím, ott a nemzetközi rövidítést - TBA: To Be Announced, azaz Később kerül bejelentésre - használjuk)


2014. január 13.

Big Ups: Eighteen Hours of Static
Blank Realm: Grassed Inn
Benjamin Verdoes: The Evil Eye
Bruce Springsteen: High Hopes
Cherry Glazerr: Haxel Princess
DJ Pone: Erratic Impulses EP
Grass Is Green: Vacation Vinny
Haunted House: Haunted House
Hiss Golden Messenger: Bad Debt
James Vincent McMorrow: Post Tropical
Lanterns on the Lake: Until the Colours Run
The Lowest Pair: 36¢
Mark Lanegan: Has God Seen My Shadow? An Anthology 1989-2011
Rosanna Cash: The River And The Thread
Sharon Jones and the Dap-Kings: Give the People What They Want
Snowbird: Moon
You Blew It!: Keep Doing What You're Doing


2014. január 20.
Against Me!: Transgender Dysphoria Blues
Alcest: Shelter
Avichi: Catharsis Absolute
Bill Callahan: Have Fun With God
Circle Jerks: Group Sex
Culted: Oblique to All Paths
Damien Jurado: Brothers and Sisters of the Eternal Son
Dog Bite: Tranquilizers
Doug Paisley: Strong Feelings
The Hidden Cameras: Age
I Break Horses: Chiaroscuro
Indian: From All Purity
Jack Name: Light Show
Jeremy Jay: Abandoned Apartments
MiWi La Lupa: New Way Home
Mode Moderne: Occult Delight
Mogwai: Rave Tapes
Shoko Hikage: Inishie No / Ancient Times
Shy Boys: Shy Boys
Thee Silver Mt. Zion Memorial Orchestra: Fuck Off Get Free We Pour Light on Everything
together PANGEA: Badillac
Tom Brosseau: Grass Punks
Twink: You Reached for the Stars
Warpaint: Warpaint


2014. január 27.
Actress: Ghettoville
Bibio: The Green EP
Cashmere Cat: Wedding Bells EP
Cities Aviv: Come to Life
Dino Spiluttini / Nils Quak: Modular Anxiety
David Crosby: Croz
DJ Feadz: Instant Alpha
Doug Tuttle: Doug Tuttle
Dum Dum Girls: Too True
The Gaslight Anthem: The B-Sides
Gem Club: In Roses
Guardian Alien: Spiritual Emergency
Habibi: Habibi
Hospitality: Trouble
Jess Williamson: Native State
Metallica: Through the Never DVD
Morgan Delt: Morgan Delt
Of Mice And Man: Restoring Force
Quilt: Held in Splendor
RiFF RAFF: NEON iCON
Pontiak: INNOCENCE
Supreme Cuts: Divine Ecstasy
Tara Jane O'Neil: Where Shine New Lights
The Autumn Defense: Fifth


2014. február 3.
Breton: War Room Stories
Katy B: Little Red
Mr Oizo: Wrong Cops OST
AAN: Amor Ad Nauseum
Ásgeir: In the Silence
Be Forest: Earthbeat
Bombay Bicycle Club: So Long, See You Tomorrow
Broken Bells: After the Disco
Cassorla: Amigos EP
ceo: WONDERLAND
Gardens & Villa: Dunes
Jerome LOL: Deleted/Fool EP
Juan Wauters: N.A.P. North American Poetry
Madlib / Freddie Gibbs: Piñata
Marissa Nadler: July
Mark McGuire: Along the Way
Mas Ysa: Worth EP
Maximo Park: Too Much Information
Secret Colours: Positive Distraction Part I
Sun Kil Moon: Benji
Sunn O))) / Ulver: Terrestrials
Woodsman: Woodsman
Xiu Xiu: Angel Guts: Red Classroom
Young Fathers: Dead


2014. február 10.
Band of Horses: Acoustic at the Ryman (koncertlemez)
The Casket Girls: True Love Kills the Fairy Tale
Crosses: †††
Deleted Scenes: Lithium Burn
Disco Doom: Numerals
Doug Keith: Pony
Fanfarlo: Let's Go Extinct
The Glitch Mob: Love Death Immortality
Hands: The Soul Is Quick
Helms Alee: Sleepwalking Sailors
Illum Sphere: Ghosts of Then and Now
Modern Baseball: You're Gonna Miss It All
Neil Finn: Dizzy Heights
Nina Persson: Animal Heart Solvent: New Ways
Speedy Ortiz: Real Hair EP
Temples: Sun Structures
Thug Entrancer: Death After Life
Thumpers: Galore
Tinariwen: Emmaar
Total Slacker: Slip Away


2014. február 17.
Beck: Morning Phase
Cibo Matto: Hotel Valentine
Angel Olsen: Burn Your Fire for No Witness
Com Truise: Wave 1 EP
Cripple Bastards: Nero in Metastasi
Guided By Voices: Motivational Jumpsuit
The Hotelier: Home, Like No Place Is There
Krill: Steve Hears Pile in Malden and Bursts Into Tears
Lost in the Trees: Past Life
New Bums: Voices in a Rented Room
Phantogram: Voices
Shocking Pinks: Guilt Mirrors
Solids: Blame Confusion


2014. február 24.
Brandt Brauer Frick: DJ-Kicks
D. Charles Speer and the Helix: Doubled Exposure
Death Vessel: Island Intervals
Jon Hopkins: "Collider" remixes
Milagres: Violent Light
MORRI$: Debut
Lo-Fang: Blue Film
MØ: No Mythologies to Follow
Natural Child: Dancin' With Wolves
Neneh Cherry: Blank Project
New Madrid: Sunswimmer
The Notwist: Close to the Glass
Schoolboy Q: Oxymoron
St. Vincent: St. Vincent
Tacocat: NVM
Thalia Zedek: Six
Vertical Scratchers: Daughter of Everything
We Were Promised Jetpacks: E Rey - Live in Philadelphia
Wild Beasts: Present Tense
Withered Hand: New Gods
Yellow Ostrich: Cosmos
Untold: Black Light Spirital


NAGY NAP LESZ MÁRCIUS 3-A, AKKOR JELENIK MEG A LEGNAGYOBB SZÜNET UTÁNI VISSZATÉRŐ LEMEZ!


2014. március 3.
A$AP Mob: L.O.R.D. EP
Axxa/Abraxas: Axxa/Abraxas
Ava Luna: Electric Balloon
Bleeding Rainbow: Interrupt
Current 93: I Am the Last of All the Field That Fell: A Channel
Drive-By-Truckers: English Oceans
Each Other: Being Elastic
Eagulls: Eagulls
Eternal Summers: The Drop Beneath
Linda Perhacs: The Soul of All Natural Things
The Men: Tomorrow's Hits
Nothing: Guilty of Everything
Trust: Joyland
WhoMadeWho: Dreams
Eternal Summers: The Drop Beneath


2014. március 10.
Metronomy: Love Letters
Biblical: Monsoon Season
Dean Wareham: Dean Wareham
Elbow: TBA
Tensnake: Glow


2014. március 17.
Hauschka: Abandoned City
Black Lips: Underneath the Rainbow
Ringworm: Hammer of the Witch
Shit Robot: We Got a Love
Sisyphus: Sisyphus
Tycho: Awake
The War on Drugs: Lost in the Dream


2014. március 24.
Jimi Goodwin: Odludek
Johnny Cash: Out Among the Stars (elveszett 80-as évekbeli lemez)
Koen Holtkamp: Motion
Simone Felice: Strangers


2014. március 31.
Kaiser Chiefs: Education, Education, Education & War
Mean Creek: Local Losers
Shy Hunters: O That I Had Wings


2014. április 28.
Kelis: Food
Secret Colours: Positive Distraction Part II


2014. május 5.
Hans Zimmer: The Amazing Spider-Man 2 OST


2014. május 13.
Ice Cube: Everythang's Corrupt


2014. május 26.
Sam Smith: In The Lonely Hour


2014. november 10.
Mark Kozelek: Sings Christmas Carols


ITT A 2013-AS ALBUMELŐZETESÜNK, LEHET CSEKKOLNI KI NEM TARTOTTA BE AZ ÍGÉRETÉT!


További lemezek, melynek már van címe, de még nincs pontos dátuma:
A$AP Rocky: Beauty and the Beast: Slowed Down Sessions (Chapter 1)
AraabMuzik: For Professional Use Only, Vol. 2
Azealia Banks: Broke With Expensive Taste
The Bug: Angels & Devils
Chromeo: White Women
EMA: The Future's Void
Future: Honest
G-Side: Gz to Godz
Girl Talk / Freeway: Broken Ankles EP
Gobby: Waking Thirst for Sleeping Banhee
Gunplay: Living Legend
GZA: Dark Matter
The Hold Steady: The Unified Scene EP
Jay Electronica: Act II: Patents of Nobility (The Turn)
Joey Bada$$: B4.DA.$$
Kitty: Flower Violence
Laibach: Spectre [Mute]
Madlib: Rock Kondcuta Vol. 1-2
The Olivia Tremor Control: John Peel Session 12"
Raekwon: Fly International Luxurious Art
Rick Ross: Mastermind
Timbaland: Textbook Timbo
Waka Flocka Flame: Flockaveli Psychotics
Walter TV: BLESSED
Wu-Tang Clan: A Better Tomorrow
Xeno & Oaklander: Par Avion
Zammuto: LP 2


További előadók, akik terveznek lemezt 2014-re, ezt már be is jelentették, vagy erősen utaltak rá, de azoknak még se a címe, se a pontos megjelenési dátuma nem ismert:
Adele, Charli XCX, Clipse, Cloud Nothings, Damon Albarn, Belle And Sebastian, Fleet Foxes, Flying Lotus, Foster The People, Frank Ocean, Fucked Up, Grimes, Hudson Mohawke & Lunice, Julian Casablancas, Joanna Newsom, Julio Bashmore, Kanye West, Kylie Minogue, Liars, Lily Allen, Lykke Li, Mastodon, Pharrell Williams, Plastikman, Real Estate, Robyn, Say Lou Lou, Spoon, Swans, The Hold Steady, The Horrors, The Juan Maclean, The New Pornographers, The Rentals, The Wrens, Titus Andronicus, Tune-yards, TV On The Radio, U2, Wilco.


Ééés: 2014 lesz a Dr. Dre- és Avalanches-lemezek éve! Tuti! Megmondták!


összeállította: Dömötör Endre